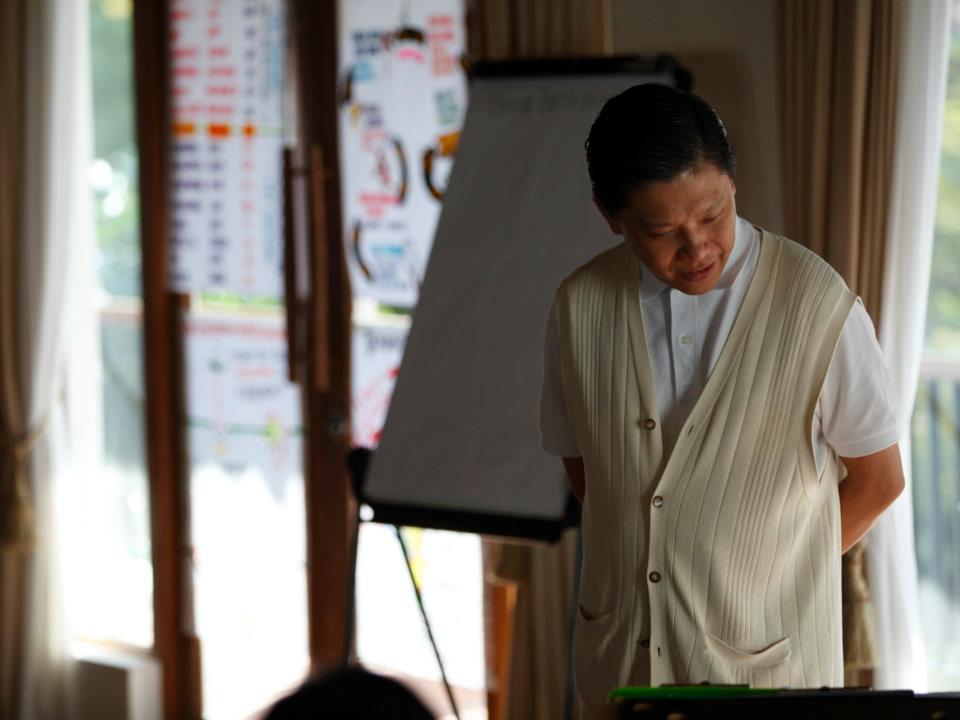 Barney Wee, PhD
Coach Master Trainer &
O.D. Consultant
Barney Wee has dedicated the last 25 years to personal development training and coaching, and in parallel, he has devoted the last 8 years to certifying life and executive coaches. Since 1997, he has been at the forefront of human change technologies, using the cognitive and behavioural approach of Neuro-Linguistic Programming (NLP) as his "operating system" for creating solutions. He has worked with Multinational Corporations, Government-Linked Companies and Government institutions as a consultant and a trainer. His latest innovation includes the integration of the Multiple Intelligences and Adult Development Theory, based on the works of Howard Gardner and Susanne Cook-Greuter respectively.
Below are his extensive track records:
Education
| | | |
| --- | --- | --- |
| Period | Education Level | Institution |
| 2012 | B.A. Psychology | International University of Professional Studies (IUPS) U.S.A. |
| 2014 | M.A. Professional Coaching & Human Development | IUPS |
| 2020 | PhD Professional Coaching & Human Development | IUPS |
Professional Training & Institutions
| | | |
| --- | --- | --- |
| Period | Professional Training & Institutions | Trained by |
| 1995 | NLP Practitioner Certification, Academy of Success, Singapore | Jerry Low |
| 1996 | Mind Mapping Workshop, Management Development Institute of Singapore | Dilip Mukerjea |
| 1997 | NLP Master Practitioner Certification, Advanced Neuro Dynamics, U.S.A. | Tad James |
| 1997 | NLP Trainer's Training Certification, Advanced Neuro Dynamics, U.S.A. | Tad James |
| 1997 | Time Line Therapy & Hypnotherapy Instructor Training, Advanced Neuro Dynamics, U.S.A. | Tad James |
| 1997 | NLP Trainer's Training Certification, The First Institute of NLP, U.S.A. | Richard Bandler |
| 1998 | Stress Management Consultant Training, International Association of Counsellors & Therapists, Singapore | George Bien |
| 1999 | High Impact Training – Brain Compatible Teaching, Impact Learning Corporation, U.S.A. | Richard Allen |
| 2001 | NLP Master Practitioner Certification, NLP University, U.S.A. | Robert Dilts & Judith Delozier |
| 2002 | Isvor-Dilts Training Consultant Certification, Dilts Strategy Group, U.S.A. | Robert Dilts |
| 2005 | Enneagram Train-The-Trainer Certification with Bogda & Associates, U.S.A. | Ginger Lapid-Bogda |
| 2009 | Advanced Enneagram and O.D. Training, Bogda & Associates, U.S.A. | Ginger Lapid-Bogda |
| 2012 | SQ & Quantum Leadership Consultant Certification, Oxford Academy of Total Intelligence, U.K. | Danah Zohar |
| 2012 | Spiral Dynamics Level 1 and 2 Certification, National Value Centre Consulting, U.S.A. | Chris Cowan |
| 2013 | HoloEnergetic Healing Certification, HoloEnergtique, France | Leonard Laskow |
| 2013 | Nine Design Principles for Collective Intelligence & Prosperity, EnneaGlobal, U.S.A. | Margaret Smith |
| 2013 | SQ21 Spiritual Intelligence Self-Assessment Certification, Deep Change Inc., U.S.A. | Cindy Wigglesworth |
| 2014 | Emotional Freedom Techniques Trainer Certification, Guild of Energists, U.K. | Silvia Hartmann |
| 2014 | Coach Master Trainer, International Association of Coaching Institutes (I.C.I.), Germany | Approved by Nandana Nielsen |
| 2015 | NLP Master Trainer, International Association of NLP Institutes (I.N.), Germany | Approved by Karl Nielsen |
| 2015 | Bio-Energy Practitioner Training Program, Michael D'Alton's School of Bio-Energy Healing, Canada | Michael D'Alton |
| 2016 | Spring Forest Qigong Level 1 & 2 Training, Spring Forest Qigong, U.S.A. | Jacqueline Gran & Gudu Schmitz |
| 2016 | Somatic Intelligence: The Integral Wisdom of the Body-Mind for Coaches, The Beyond Partnership, U.K. | Paul King |
| 2018 | Developing Leadership Maturity Intensive Training Level 1 & 2, Vertical Development Academy, U.S.A. | Susanne Cook-Greuter & Beena Sharma |
Professional Engagements
Period
Professional Engagements
Remarks
1997 -2021
Conducts four-six classes of NLP Practitioner and 1-2 classes of NLP Master Practitioner Certification Trainings every year, across six countries: Singapore, Thailand, Vietnam, Mauritius, Malaysia and Indonesia. Up to 2020, trained more than 2200 practitioners of NLP.
Ongoing
1997 – 2010
Conducted two Hypnotherapy and Time Line Therapy Practitioner Certification Trainings every year in Singapore.

Discontinued

2001 – 2003
National Healthcare Group Polyclinic in collaboration with Robert Dilts. Moved from a fully government owned to semi-privatised commercial healthcare group. Customised new leadership and managerial skills, as well as communication and coaching workshops.
Two-year engagement. Rated Number 1 in industry for customer service and seamless transition of medical services. Customer complaints were reduced significantly.
2004
AXA Wealth Management, the work involved shifting the mindset of a group of executives and directors from that of an insurance agent to that of a wealth-management consultant. The work involved developing an NLP-Based consultative selling approach and identifying the key mindsets they needed to embody and demonstrate. A Train-The-Trainer programme was created to handover the tested and refined programme.
Three-month engagement. The core team of 11 eventually grew to a sales force of more than 200 wealth consultants.
2005
Rohde & Schwarz, the work involved training a global team of leaders that came from nine different countries. The focus of the training was to empower the leaders with a world-class model of NLP leadership, based on the modeling work of Robert Dilts. Key elements of the training: Fundamental goals of world class companies; Mindset of effective leaders; Framing conversations for optimal understanding; Managing different thinking styles; Widening perceptual perspectives; Understanding and leveraging on cultural diversity; Bringing vision to concrete action; and aligning individuals to the organisational vision.
Two-month engagement. Organisation leaders were able to understand each other better. Feedback from the leaders showed that they were more able to observe and adjust themselves. They appreciated that they have more points of view and the ability to switch appropriately between dreamer, realist and critic views.
2006 – 2008
Basic Military Training Centre, the work involved modeling a group of exceptional commanders to extract patterns of influence and transfer them to new commanders. The work consisted of 10 phases, starting with gathering information from the General and Lt. Colonels to Captains and Warrant Officers; modeling eight exceptional commanders; obtaining feedback from recruits and the commanders' superiors; collating and structuring the information gathered; developing and delivering the workshop; training the chosen Master Trainers of the military to handover the tested and refined programme; and coaching touch-points were given to the Master Trainers over a period of three months.
Two-year engagement. The result achieved proved that with proper mastery and utilisation of NLP, influential leadership can be inculcated. Some key behavioural indicators were manifested: trained commanders were more proactive, diligent in planning, more aware of their verbal and nonverbal impact on recruits, more confident during challenging times.
2010 – 2011
Bank Tabungan Pensiunan National (BTPN), Indonesia, the work involved modeling a group of 12 exceptional bank managers, who were able to consistently generate above-target loan and collection results. The project consisted of 10 phases, largely the same as above. The key difference was that the work was done with a translator, and the modeling was carried out across several provinces in Indonesia.
One-year engagement. At the point of engagement, BTPN was largely a micro-loan servicing bank. They expanded to 300 more branches across Indonesia only two years after the project.
2015
Lux Resorts, Mauritius, the work involved a three-day modeling of an exceptional leader in the organisation and identifying key mental and behavioural skills allowing one to thrive during times of massive change. The key skills modeled were: envisioning ahead; setting a clear intention and learning from it daily; using conversational frames for optimal understanding; managing one's own mental & emotional state; generating multiple perspectives; re-prioritising and re-scoping one's work.
Two-day workshop. Training ended with the HR manager wanting to do an extended modeling of the CEO, to plan for leadership succession.
Period
List of Customised Training Programmes:
Companies worked with:
1997 – 2017
Getting Results From Yourself & Others (Communication & Personal Effectiveness); Effective Communication for Higher Team Performance; Interviewing Skills with NLP; Developing the Consulting Mindset & Skills; The NLP Executive Development Course; Promoting a Culture of Leadership Growth;  Bringing Out the Best in People (Coaching Skills for Managers); The Real Ultimate Selling Technology (TRUST); Enhancing & Maintaining Peak Performance (Personal Effectiveness); Empower Your Mind to Change (Change Management).
DBS, Prudential, AXA, DHL, Elsevier, Banta Corporation; Boots Healthcare International; Atos Singapore; Stratus Technologies; BBC Worldwide; Pernod Ricard Singapore, ST Electronics,
Central Narcotics Bureau, Prison Intelligence, MDIS, NUS, NTU Alumni
Barney's Knowledge Framework
Domain
Knowledge Framework
Fields of Knowledge
All-
Encompassing
NLP is the "operating system" of all that I do. Whether it is training, coaching or consulting, NLP helps to absorb, codify, organise, retrieve information, analyse problems, and generate resources. NLP turns what we know into strategic thinking, feelings and actions.
NLP – all levels of training, including NLP Leadership Development programmes. Many aspects of NLP personal development are now accepted as crucial elements of organisational development.
Subconscious
& Conscious Dynamics
The subconscious processes 40,000,000 bits of data; the reticular activating system—associated to our conscious mind, selects 40 bits of data out of that. Developing rapport between our conscious and subconscious mind is an important aspect of self-mastery.
Hypnotherapy; Time Line Therapy; Intention-Setting and Self-Acknowledgement; Mindfulness Training; NLP state management on clarity and calmness.
Organisation & Business Development
The breakthrough came for me when I saw fractals in personal and organisational development. Seeing organisations as a living "person" helps one to gain an organic understanding of high-leverage points of change in a multi-system organisation. Empowering organisations to adapt to VUCA is critical. Aligning systems within an organisation involves personal effectiveness, communication, ownership and engagement.
NLP trainings – especially logical levels of change & support; Isvor-Dilts Leadership and change-management systems; NLP Success Factor Modeling; Advanced Enneagram & O.D. frameworks; VUCA tools for a VUCA world (Deaton A.); Rituals for Work (Ozenc & Hagan); Immunity to Change (Kegan & Lahey); 4D Leadership (Wakins A.).
Intellectual Quotient
This "thinking ability" consists of verbal intelligence, information processing, perceptual/spatial reasoning, problem solving, resource/solution formulation, planning process, simultaneous processing & successive processing. It is the ability to capture, store, codify, organise, extract, reason, formulate new ideas & problem solve.
NLP – all levels of training, especially on the multi-dimensional SCORE; Meta-Model & Reframing; Mental Rehearsal Processes; Strategy Formulation; Modeling and Replicating Excellence; Thinking in Pictures (Visualisation); Mind-Mapping; Brain-Compatible Learning & Teaching.
Emotional Quotient
The key to interpersonal & intrapersonal mastery is EQ. Gaining mastery of our emotions supports our ability to think more clearly & act more effectively. The ability to regulate one's own emotions & read other people's emotions to pace & lead them is vital in the domain of relationships.
NLP State Management Processes; Core state mastery; Somatic Syntax; Enneagram – understanding people's core fears & motivations; Affective Neuroscience (Panksepp J.); Musical Intelligence; Meridian Tapping; HoloEnergetic Healing.
Physical


Quotient

Many of us do not realise that we need to move in order to think effectively. There is knowledge in our body that can be accessed through movement and breathing (without thinking). The power lies in bringing knowledge into our muscles.
Somatic Intelligence; Somatic Syntax; Meridian Tapping; Bio-Energy Healing; Your Body Is Your Brain (Blake A.); Leadership Embodiment (Palmer W.).
Energetic Influence
The realisation of this energetic influence comes from the study of Quantum Psychology, where energy and matter are interchangeable. The ability to harness, shift, expand and contract our energetic states can influence interpersonal outcomes.
NLP State Management Processes; Core state mastery; Quantum Consciousness (Wolinsky S.); Leadership Embodiment (Palmer W.); Spring Forest Qigong.
Spiritual


Quotient

This answers the question of human existence, i.e. human meaning and purpose. It closely relates to consciousness, as in what shapes or influences our attention, and how we assign meaning to it. It strives to understand the relationships between self, others and the world. Increasingly, more people globally are facing the crisis of meaning and purpose – which is the key to unlocking passion and motivation.
SQ21 – 21 skills of spiritual intelligence (Wigglesworth C.); Leading with quantum & spiritual intelligence (Zohar D.); Adult Maturity Development (Cook-Greuter); Power Vs Force – understanding the map of consciousness (Hawkins D.); Choices of Now – Integrating science & spirituality to solve global problems (Wee & Lau).
Human Systems Development
Systems knowledge enables us to see & understand the relationships between complex systems, how they affect each other & how they evolve over time. The aim is to find the high leverage point of change & also to strengthen the intelligence of patience, observation & power of timing in the domain of human change.
Spiral Dynamics – evolution of values (Beck & Cowan); Adult Maturity Development (Cook-Greuter); Nine Design Principles for Collective Intelligence & Prosperity (Smith M.); Choices of Now – understanding chaos & order through the union of science & spirituality (Wee & Lau).
Publications
| | |
| --- | --- |
| Date Published | Title |
| 2014 | Co-authors the book: "Choices of Now: Urgent Decisions for Co-creating the Future of our World." In this book, Barney and his co-author, Agnes Lau, integrate the best in science and spirituality to give the world the coherent message that in the midst of environmental, social and economic chaos, we, as individuals, are ultimately the solution in our world. |
| 2016 | Publishes an Academic paper with Khemthong S. on Chiang Mai Association of Medical Science. Titled: "Integration of Occupational Therapy and NLP for Thais with Mental Health Experiences." Barney serves as a consultant to the researcher. |
| 2020 | Publishes an Academic paper in the Journal of Experiential Psychology. This is the distillation of the findings from Barney's Ph.D. research. Titled: "The Criticality of Vertical Development in NLP Coaching in an Intensely VUCA world." |
Conferences, Webinars & Podcasts
Date
Event
2010
Speaker at NLP Now Telesummit (U.K.)
Barney is featured alongside some of the world's leading NLP Trainers and Developers. His presentation covers the topic of Conversational Coaching.
2011
Speaker at Happiness at Work Telesummit (U.K.)
Together with some of the world's leading researchers on the topic of Happiness at Work, Barney addresses the topic of personal effectiveness.
2015
Speaker at the National HR Summit in Vietnam
He is invited as a speaker at the National HR Summit in Vietnam, where he addresses the topic of Innovative Leadership through NLP.
2015
RevOILution Wellness Expo, Suntec Singapore Convention
Barney is asked to talk about his book "Choices of Now: Urgent Decisions for Co-Creating the Future of our World" in a wellness expo.
2019
Getting Naked with Happiness Podcast (Singapore)
He is invited to share his view on the topic of "How to Become Limitless" in a podcast interview with Stephen Lew, founder of The School of Positive Psychology
Don't Wait Any Longer —
Start Forging Your Own Path Today!
Let us know below and we are happy to have a conversation with you
to move forward